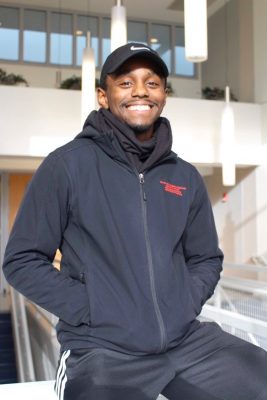 I'jaaz Sultaan Muhammad is a second-year doctoral student whose current research constitutes biomedical engineering in pharmacokinetics, specifically as it pertains to drug delivery. 
As someone who has been homeschooled all the way through twelfth grade, Muhammad's first exposure to public school—at Health Career Opportunity's  pre-college engineering program—prompted his love of helping and mentoring other people.
He explains, "each of my mentees have gone on to do something significant in their lives; to work at NASA, start their own business, become a university scholar…" He says, "they all do what they want to do, and the thought…that maybe I could have helped them to get there…it's my greatest reward." 
Muhammad's academic record deserves its own kind of appraisal. He knows four languages, and has been a Rowe, LSAMP, McNair, and Bridge to the Doctorate Scholar, as well as an active member of the Student Association of Graduate Engineers, the Graduate Chapter of the National Society of Black Engineers, and Engineering Ambassadors. 
As an e-board member of John Lof Leadership Academy, Muhammad holds the title of Parliamentarian. Within that role, he interviews graduate students prior to induction, and is responsible for advising and directing members under the organization's various rules and regulations.
JLLA has assisted the development of his "echo-social skills," or ability to network. While people are always saying that "network gives you net worth," they never know where to go from there, and he believes John Lof has helped in "filling that gap," or connecting a person's network to their net worth. 
Muhammad's general advice is to always keep your gratitude. He says, "it can be hard…and that's why we remind ourselves to be grateful for the little things. That's how you go to war with depression. Count your blessings, not because they could be easily taken away, but because you are experiencing them now."
---