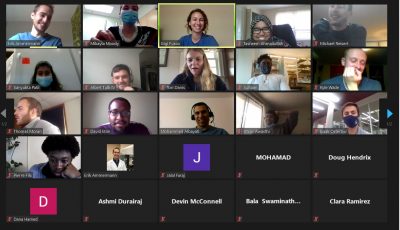 JLLA's first meeting of the academic year; Photo by Mikayla Moody
The University of Connecticut's John Lof Leadership Academy has inducted sixteen new members into its third cohort of scholars. Over the next two years, they will develop their leadership and professional skills with an individualized curriculum. 
Through a "for us, by us" philosophy, John Lof Scholars aim to develop themselves through focused training, specialized workshops, and active learning through outreach and enterprise on and off the UConn campus.
New Scholars had the opportunity to network with their fellow members at their first General Body Meeting, where they also learned more about incentives and growth opportunities within the academy. 
The curriculum is commencing with student-led workshops on Leadership Values, Identifying the Individual Leader and Strengths and Values. Since last Spring, JLLA has been quantifying the effectiveness of the curriculum through a leadership evaluation tool. 
Mind Garden's multifactor leadership questionnaire (MLQ), provides a holistic assessment of individual leadership through assessments. This tool will help scholars create individualized action plans to achieve transformational leaders and quantify the success of the group's curriculum.