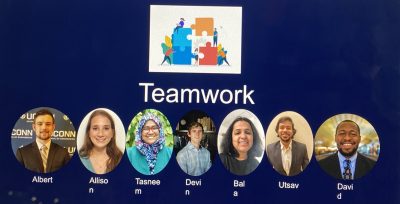 On Wednesday August 4, 2021, John Lof hosted its last official summer workshop, "Teamwork." 
Led by Allison Surian and Utsav Awasthi, this workshop aimed to identify the skills required for a functional, cohesive group of working individuals. They identified teamwork as "the process of working collaboratively, to build a feeling of oneness."
The opening icebreaker had members introducing their research "to a martian." The goal of this exercise was to promote thorough and careful communication, so that students may be able to break apart complicated material, and create something more digestible to team members. 
The next activity brought visual communication to the forefront through a virtual game of pictionary. An artist was chosen to draw each round, while teammates had sixty seconds to correctly identify the image at hand. Without words or gestures, this activity promoted communication through an entirely singular medium. 
The last activity of the evening, trivia, required that members work as teams in order to answer riddles and engineering-based questions. This encouraged students to share their ideas and knowledge for a more rounded and dependable answer. 
This workshop placed great emphasis on collaboration through accountability, communication and commitment. It showed teamwork to be an effective part of leadership, and that constructive leaders must be able to work with their team.
Members responsible for putting this event together include Albert Tulli IV, Bala Swaminathan, David Etim, Devin McConnell, Tasneem Ahmadullah, Allison Surian and Utsav Awasthi.