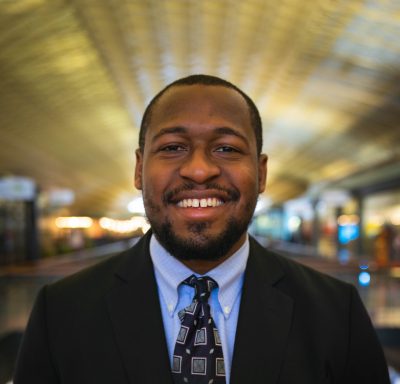 David Etim is a PhD candidate in Computer Science and Engineering. His experiences in industry and under the United States Departments of Commerce, Defense, Energy, and Homeland Security have fortified a set of data analysis and technical research skills. 
Etim's interest in computer science and engineering started early on. By the fifth grade, he could design a website, take a computer apart and piece it back together. Every summer until high school he would attend the Science, Engineering, Mathematics and Aerospace Academy (SEMAA) at Winston-Salem State University. 
He obtained his Bachelor's degree at North Carolina Agricultural & Technical (A&T) State University, where he studied Computer Science and Applied Mathematics, and completed his Master's degree in Computer Science and Engineering at the University of Connecticut. 
Etim has acquired a wealth of experience through varied internship opportunities across the following organizations:
The National Oceanographic Atmospheric Administration (NOAA), National Aeronautics and Space Administration (NASA), Energy Exemplar LLC, National Energy Technology Laboratory (NETL), National Nuclear Security Administration (NNSA) and Commonwealth Edison Company (ComEd).
These internship experiences have allowed him to implement and expand his knowledge of coding, software engineering, and data analysis, amongst other technical skills.   
Etim also works as a part-time Federal Program Manager at the NNSA, where he oversees the Verification & Validation (V&V) subprogram, the Predictive Science Academic Alliance Program (PSAAP), as well as Advanced Machine Learning and Large-Scale Calculation initiatives within the NNSA Advanced Simulation & Computing (ASC) Program.
In his current doctoral research, Etim examines data extraction techniques and their applicability to various domains, specifically within health care for Electronic Health Records (EHRs). The data is analyzed and surveyed to retrieve relevant information from sources in a specific pattern.  
Etim's objective in conducting data extraction for EHRs is to enhance the diagnosis process for patients with various health conditions. This data consists of the patient's vital signs (heart rate, blood pressure, respiration rate, etc.) as well as their regular caloric intake, consumption of food and supplement usage. 
This information is extracted through a specific technique—Natural Language Processing, (NLP)—which uses the software to categorize and predict patterns in speech or text. This is used to guide treatment plans of prospective patients.
Etim hopes to continue his industry work but plans to eventually re-enter academia as a professor with the goal of obtaining tenure. Whether he's working with students or on his doctoral research, Etim aims to be the best leader he can potentially be.
Etim currently serves as Parliamentarian on the John Lof Leadership Academy (JLLA) Executive Board where he ensures that the official bylaws are being followed in all procedural actions by JLLA Members.