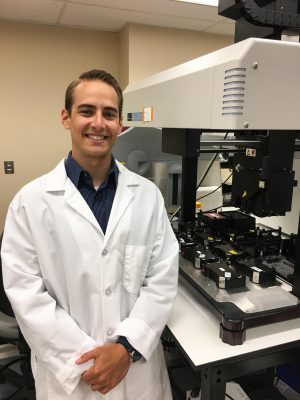 Erik Ammermann is a second year chemical and biomolecular engineering PhD candidate as well as president of the John Lof Leadership Academy. Ammermann has been conducting research on Alzheimer's disease through protein engineering under Dr Yongku Cho at Cho Research Group. 
After being accepted to the University of Connecticut for graduate school, Ammermann toured the school and met JLLA members. The academy's student-led approach is what appealed to him in addition to the "networking opportunity between different engineering disciplines, not just chemical engineering."
Now serving as JLLA's second president, Ammermann reflected on the opportunity to serve as a leader among  other strong leaders: " I would say the biggest thing I am learning is that being President is giving me a better sense of when to step up and take charge of something versus letting someone else take the lead, since I can be very hands-on at times," said Ammermann. "Also, I feel like it is making me a better, more active listener as I try to account for all perspectives before making decisions."
During his time as an undergraduate researcher Ammermann observed that "technical skills and research abilities will only get you so far, but in order to advance your career you need interpersonal abilities and communication skills."
His experience with John Lof thus far has helped him fine-tune those transferable skills and translate them into other aspects of his life. Outside of the classroom, Ammermann was heavily involved in the Penn State Dance Marathon (THON), a charitable student-run organization that helps children and families impacted by childhood cancer.
---