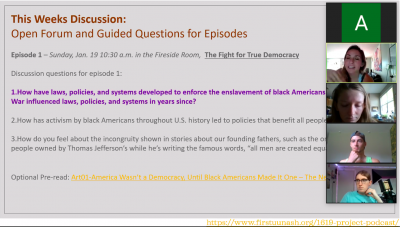 An integral aspect of the John Lof Scholars curriculum is creating culturally competent visionaries by means of "engaging communities inside and outside the School to promote, and provide mentoring and support where appropriate."
This mission is executed in a "for us, by us" philosophy, in which John Lof Scholars develop through focused training, specialized workshops, and active learning through outreach and enterprise on and off the UConn campus. 
In solidarity with Black Lives Matter, all members were invited to learn about the Black American experience by engaging with books, podcasts, and documentaries. A compilation of resources was also created for everyone to engage with at their own pace. 
"Within JLLA, we have always worked towards creating a space of honest and open communication where our members can come together to learn, fail, and grow," said JLLA President Randi Mendes. "This poses a unique opportunity to learn from one another and have these hard but necessary conversations."
The first meeting was an open forum with guided questions on the first episode of "1619," a New York Times audio series hosted by Nikole Hannah-Jones.
"It is important that us white people do our part to learn about our fellow peers' experience," Anna Marie LaChance says . "This is their life and history, education is the only way to assure we don't reproduce the same problems. Holding ourselves accountable is a life-long commitment- we are only just beginning."
JLLA Vice President Stephany Santos emphasized that "we must work together to create a new normal that is forward."
---