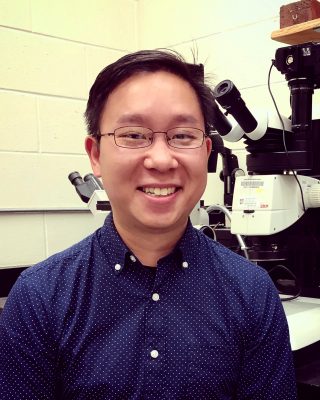 By Allison O'Donnell, Written Communications Specialist, UConn School of Engineering
Justin Fang is a Ph.D. candidate in the Department of Biomedical Engineering who conducts research on biomaterials in the LoTurco Lab. His research involves capturing QDs in bio-compatible polymers for imaging.
In addition to his research, Justin has served three terms on the Executive Board of the Graduate Student Senate (GSS), with the last two terms as the GSS President. In addition to his Presidency, Justin has served as the Graduate-Student Senator to the University Senate, which comprises graduate and undergraduate students, staff, and faculty at UConn.
In his role at the University Senate, he has served on the University Senate Executive Committee where he helped develop and write university-wide policies, in coordination with the President and Provost of UConn. Lastly, Justin is also the Student -Trustee on UConn's Board of Trustees, where he represents the interests of fellow UConn students. As such, he became a member of JLLA to become a leader that can inspire others.
"JLLA has been a great opportunity for me to hone my leadership skills, especially when it comes to how to manage a team towards a shared goal," said Justin. "[Leadership skills] are important to succeeding in a global economy, and is an important skill in general to have."
Justin says he would encourage all graduate students in the School of Engineering to apply to JLLA, "since college graduates with a master's or Ph.D. degree typically result in graduates being placed in a leadership role, wherever they end up."
He also emphasizes the importance of knowing how to inspire others and maximizing efficiency- regardless of industry.
Outside of JLLA, Justin enjoys staying active by playing tennis, racquetball or hiking. When spending time inside, he plays the piano and reads sci-fi books.
---