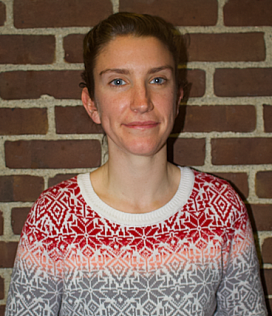 By: Allison O'Donnell, Written Communications Specialist, UConn School of Engineering
Tara Walsh is a fourth-year Ph.D. student from Boylston, Massachusetts. She is currently a GAANN Fellow in the Environmental Engineering program at UConn. Walsh has been researching power outage restoration in Connecticut in order to minimize the time and costs involved with storm recovery. 
Outside of her academic endeavors, Walsh enjoys doing "anything where [she is] not sitting still." Her activities of choice are running, hiking and crossfit. She is also a member of the Student Association of Graduate Engineers (SAGE).
Walsh was encouraged to apply to JLLA by an environmental engineering professor, who even provided assistance with the application process. Her professor's confidence in JLLA is what assured Walsh it would be a worthwhile program. 
"I needed to work on stepping out of my comfort zone, and all of the activities that we do at JLLA make me do that," Walsh said. "So having the space to practice and the people who are willing to give feedback and help me grow has helped a lot."
Now that she is in her final semester of JLLA, Walsh has had time to reflect on how the program has prepared her for a career in the engineering field. 
"It gives you the time and space to think about who you want to be professionally," said Walsh. "You can work on getting there and filling in the gaps that we don't otherwise have a way to work on."
JLLA has introduced Walsh to potential career paths through networking with professionals and engineers from other departments. She says she has learned a lot about her leadership style through collaborating in workshops. 
One of the main takeaways she did not expect from the program was learning what her values are and how to incorporate them into a leadership style.
---